Handbook of Cladding Technology
(Second Edition)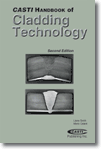 Downloadable E-book:
5.2 MB (Adobe PDF file)

Price:
$150 USD or $165 CAD
Edition:
Second Edition: printed January 2000
Author:
Liane Smith, Mario Celant
ISBN:
1-894038-30-4
This CASTI handbook covers all aspects of clad products - the different means of manufacture, properties and applications in various industries. Topics include: an introduction to cladding technology, clad plate, clad pipes, bends, clad fittings, specification requirements of clad products, welding clad products, clad product application and case histories from around the world.
Unique to this book is the documentation of case histories of major cladding projects from around the world and how the technology of that day has withstood the demands of time. Filled with over 100 photos and graphics illustrating the various cladding technology examples and products, this book truly documents a wide array of recent technologies used around the world in the field of cladding.
This publication is only available in a downloadable Adobe Acrobat PDF E-book.
Table of Contents
Chapter 1 - Introduction to Cladding Technology
Chapter 2 - Clad Plate
Chapter 3 - Clad Pipes
Chapter 4 - Clad Bends
Chapter 5 - Clad Fittings
Chapter 6 - Specification Requirements of Clad Products
Chapter 7 - Welding Clad Products
Chapter 8 - Clad Product Applications
Chapter 9 - Clad Pipe Projects
Appendix 1 - Abbreviated Terms
Appendix 2 - Hardness Conversion Numbers
Appendix 3 - Unit Conversions
Appendix 4 - Pipe Dimensions
Appendix 5 - Bibliography
Appendix 6 - List of Figures and Contributors
Index
About the Authors

Liane Smith, Ph.D.
Dr. Liane Smith established Intetech Ltd. In 1991 to provide consultancy services in the field of corrosion analysis, materials selection and welding. Activities include materials selection for projects, the preparation of company and international specifications, training courses and market analysis. Clients include international oil and gas operating companies and materials suppliers. She has worked internationally as a consultant to the Nickel Development Institute, giving workshops and presentations throughout the Far East, Middle East, USA and Europe on the properties and selection of stainless steels and nickel alloys for corrosive service. Previous experience with the Shell Group of companies for 10 years in the UK and the Netherlands included close involvement in pipeline projects involving clad steel and duplex stainless steel as well as materials selection for major projects world-wide.

Mario Celant, Ph.D.
Dr. Mario Celant has been an independent consultant in the field of materials and corrosion engineering since 1987. He founded MaC-Materials and Corrosion, which is active in industrial consultancy for corrosion and corrosion protection. His main areas of activities are related to materials selection in corrosive environments, with particular reference to the oil & gas industry. He has supported clients internationally on downhole tubing and pipeline material selection, specification, writing, consultancy in failure analysis, personnel training, and market analysis. In the previous 8 years Mr. Celant worked for Snamprogetti as head of the Materials Technology and Corrosion department.