Handbook of Corrosion Control in Soils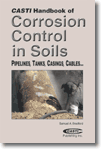 Price:
$150 USD or $165 CAD
Author:
Samuel A. Bradford
ISBN:
1-894038-58-4 (Book)
Downloadable E-book:
7.4 MB (Adobe PDF file)

This book is designed for the reader who has a basic knowledge of corrosion processes but who needs more practical, specific information on combating metallic corrosion in soils. The introductory chapter briefly explains the soil corrosion problems that currently face us and explains why they have increased so rapidly in importance. The two following chapters deal with soils - their properties and variations - so that estimates of soil corrosivities can be made. The next chapters discuss the types of corrosion most commonly found in soil, with particular emphasis on the most serious corrosion problems: stress corrosion cracking, stray currents, and microbial corrosion. The last half of this text, Chapters 10 through 13, covers ways to prevent or stop corrosion, with cathodic protection being the most used and consequently the method given the most emphasis.
Readers of this book will gain an understanding in how to tackle their problems, along with a knowledge of the extensive support available to them in the way of modern test instruments and protection equipment.
This publication is only available in a downloadable Adobe Acrobat PDF E-book.
Table of Contents
An Overview
The Nature of Soils
Corrosivity of Soils
Electrochemical Corrosion
Stray Currents and Long-Line Currents
Microbial Corrosion
Environmental Cracking
Potential Measurements
Corrosion Measurement
Corrosion Reduction
Cathodic Protection Principles
Equipment for Cathodic Protection
Cathodic Protection Design
Appendix 1 - Unit Conversions
Appendix 2 - Physical Properties of Ferrous Metals
Appendix 3 - Periodic Table
Appendix 4 - Pipe Dimensions
Appendix 5 - Hardness Conversion Numbers
Appendix 6 - International Standards Organizations, Technical Associations and Societies
Appendix 7 - List of Firms and Organizations Supplying Pictures
About the Author

Samuel A. Bradford, Ph. D.
(Author and Professor)
Dr. Samuel A. Bradford is Professor Emeritus of Metallurgical Engineering at the University of Alberta, where he concentrates on giving short courses in various aspects of corrosion, writing about corrosion, and working as a consultant in metal failures and corrosion. He is also the author of Corrosion Control, published by Van Nostrand Reinhold.
He received his B.S. and M.S. degrees in chemistry from the University of Missouri at Rolla, and his Ph.D. in metallurgy from Iowa State University. Dr. Bradford served as a radio officer in Korea during the conflict there. He has worked in industry as an analytical chemist and spent six years in research and development at Bethlehem Steel. He also worked in corrosion research at the Fontana Corrosion Center of the Ohio State University.
Most of his career has been devoted to teaching at the University of Alberta with courses in materials, thermodynamics and kinetics, and of course, corrosion at both undergraduate and graduate levels.