Practical Self-Study Guide to Corrosion Control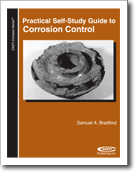 Printed Book:
cerlox bound, 8.5" x 11" 255 pages

Edition:
First Edition: 1998
Price:
$150 USD or $165 CAD
Author:
Samuel A. Bradford
ISBN:
1-894038-11-8
Downloadable E-book:
5.2 MB (Adobe PDF file)

This self-study guidebook is designed for the person who faces corrosion problems related to metals but who has no formal training in the subject. Rather than learning by making mistakes that may even escalate the problem, the reader will be able to identify the type of corrosion and be guided to the best ways to solve, or at least cope with, the situation.
Most successful corrosion engineers today have developed their skill under the guidance of a mentor who acquired knowledge through years of experience. This book cannot replace experience but it will provide the reader with a better understanding of basic principles of corrosion and corrosion protection so that both old and new problems can be dealt with.
This is a non-mathematical approach, assuming no knowledge of basic science. The bare minimum of chemistry and metallurgy needed to understand corrosion is provided here. To make sure the reader has grasped the main points, each chapter is followed by multiple-choice questions - over 175 in all. Terms that might be unclear are defined at the end of each chapter and are also listed in the index for quick reference. There are more than 450 terms that might be encountered in a wide range of industries.
This publication is only available in a downloadable Adobe Acrobat PDF E-book.
Table of Contents
Chapter 1 - Why Corrosion Control
Chapter 2 - Basic Chemistry and Physics
Chapter 3 - Basic Metallurgy
Chapter 4 - General Corrosion
Chapter 5 - Metal vs. Metal
Chapter 6 - Environmental Effects
Chapter 7 - Stress-Assisted Corrosion
Chapter 8 - Natural Environments: Water, Air, and Soil
Chapter 9 - High-Temperature Corrosion
Chapter 10 - Corrosion in Chemicals
Chapter 11 - Testing and Monitoring
Chapter 12 - Inspection and Failure Analysis
Chapter 13 - Materials Selection
Chapter 14 - Protective Coatings
Chapter 15 - Inhibitors and Chemical Treatment
Chapter 16 - Cathodic and Anodic Protection
Chapter 17 - Designing to Control Corrosion
Chapter 18 - Economic Calculations in Corrosion
Appendix A - Units of Measurement with Conversions
Appendix B - Approximate Equivalent Hardness Numbers and Tensile Strengths for Steels
Appendix C - Answers to Questions
Appendix D - References
Index
About the Author

Samuel A. Bradford, Ph. D.
(Author and Professor)
Dr. Samuel A. Bradford is Professor Emeritus of Metallurgical Engineering at the University of Alberta, where he concentrates on giving short courses in various aspects of corrosion, writing about corrosion, and working as a consultant in metal failures and corrosion. He is also the author of Corrosion Control, published by Van Nostrand Reinhold.
He received his B.S. and M.S. degrees in chemistry from the University of Missouri at Rolla, and his Ph.D. in metallurgy from Iowa State University. Dr. Bradford served as a radio officer in Korea during the conflict there. He has worked in industry as an analytical chemist and spent six years in research and development at Bethlehem Steel. He also worked in corrosion research at the Fontana Corrosion Center of the Ohio State University.
Most of his career has been devoted to teaching at the University of Alberta with courses in materials, thermodynamics and kinetics, and of course, corrosion at both undergraduate and graduate levels.