CASTI Inspector / Engineer Career Path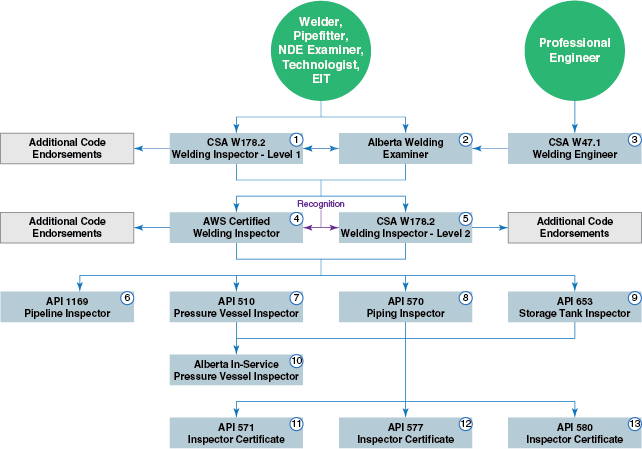 This CASTI career development path will achieve the status of a "complete pressure equipment inspector" having obtained:
CSA W178.2 Level 2 Welding Inspector

ASME B31.3 Code Endorsement
ASME Section VIII-1 and IX Code Endorsement

Alberta Welding Examiner
AWS Certified Welding Inspector

ASME B31.1, B31.3 and Section IX Code Endorsement
ASME Section VIII-1 and IX Code Endorsement

API 510 Pressure Vessel Inspector
API 570 Pressure Piping Inspector
API 653 Aboveground Storage Tank Inspector
Alberta In-Service Pressure Vessel Inspector
API 571 Advanced Knowledge Certification
API 577 Advanced Knowledge Certification
API 580 Advanced Knowledge Certification
Although it is not necessary to achieve all of these certifications to be employed as a welding or pressure equipment inspector, the more certifications one can achieve, the more employable they become.
Note: Qualification requirements for API 571, 577 and 580 have been changed. Applicants are no longer required to be certified in one of the basic API 510, 570, or 653 programs. However, CASTI recommends completing at least one of the basic programs to build a foundation of knowledge prior to writing the advanced knowledge certifications.