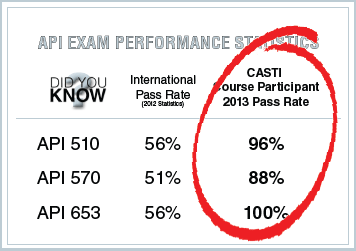 CASTI Presentation on Temper Bead Welding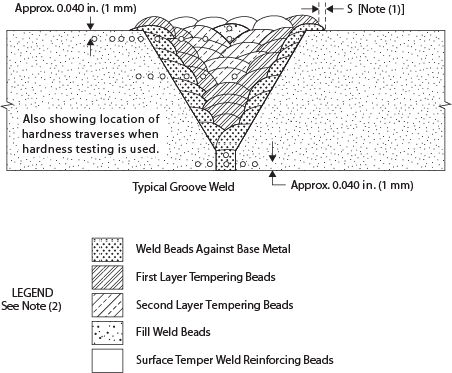 ASME Section IX Figure QW-462.12 Nomenclature for Temper Bead Welding
On September 28, 2016, Kimberley Meszaros of CASTI gave a presentation to the CWA Calgary chapter on Connecting-the-Codes from Temper Bead Welding to the ASME Codes, CSA Codes and the NBIC. There was a full audience and, due to popular demand, we have now made the presentation slides available for download here.
Temper Bead Welding (TBW) was adopted into the 2004 Edition of the ASME Boiler and Pressure Vessel Section IX code; the adoption of TBW has permitted welders to strategically exploit the effects of welding. Of particular note, is the ability to utilize TBW to create a weldment with improved strength and low temperature impact properties without the application of post weld heat treatment (PWHT). However, to reliably obtain these benefits requires development of a robust welding procedure, performance qualification and parameter controls during production welding.
Section IX- QW-290 describes the rules for TBW procedure qualification, upgrading of existing procedures to include TBW, restrictions on the use of TBW, qualification of welders and variables for TBW, among other topics. The rules for TBW in Section IX and a selection of other codes will be discussed.
Kimberley Meszaros, (P.Eng, MSc) is a professional engineer who practices materials engineering. She is a certified welding inspector. Kimberley is a BSc (Materials Engineering) and MSc (Materials Engineering- Welded Composite Coatings for Oil Sands) graduate of the University of Alberta. Kimberley has worked in the Alberta energy sector developing and troubleshooting welding procedures, consulting on various projects, and has worked in research and development for both private and government organizations.
A World Leader In Codes and Standards Training
Codes and Standards Training Institute (CASTI) was founded in 1982 when John E. Bringas, P.Eng. taught our first course in welding metallurgy. Since then, CASTI has presented over 1,500 courses internationally, specializing in the area of engineering codes and standards (API, ASME, ASTM, CSA, NACE, ISO, and others). The CASTI instructor staff includes members of many codes and standards committees as well as globally-recognized professional engineers with international accreditations.
CASTI technical courses are developed for inspectors, engineers, technologists, designers, supervisors, maintenance, and quality assurance personnel who work for owners-users such as petrochemical plants, refineries, gas plants, power plants, oil/gas pipelines, pulp and paper mills, municipalities, or those who work for engineering procurement companies, inspection companies, fabricators, and regulators in governing jurisdictions.
Our Instructional Philosophy
To ensure the highest quality education, all CASTI courses are developed and taught by highly knowledgeable and experienced instructors. Many of our instructors are or have been Code committee members.
CASTI has also been accredited as an IACET Authorized Provider for more than 10 years, in compliance with the ANSI/IACET Standard that is recognized internationally as a standard of good practice. To achieve this accreditation, all CASTI course content and learning management systems are designed, developed, instructed, and assessed by highly knowledgeable and experienced instructors and instructional designers to meet the strict requirements of the ANSI/IACET Standard. As an IACET Authorized Provider, CASTI offers IACET Continuing Education Units (CEUs) for all of its training courses.
At CASTI, we not only teach "what" is in the Code or Standard, but more importantly, "why" it is there and "how" to apply it in industry.
CASTI Corrosion Series

CASTI Online Databases

Extras
CASTI Publishing Inc.
CASTI Publishing Inc. was launched in 1992 with the release of the CASTI Metals Black Book - North American Ferrous Data, a metals data book which has sold over 20,000 copies in more than 80 countries worldwide. We now publish the CASTI Metals Data Book Series (2 volumes), the CASTI Handbook Book Series (4 volumes), and the CASTI Guidebook Series to the ASME Codes (4 volumes). These publications are available as traditional printed books and as fully searchable e-books.