CASTI's website and services has not been affected by the Heartbleed issue. You can continue to use CASTI's websites and services with confidence.

"Bruce did an excellent job. I really enjoyed the stories he told which were pertinent to the subject matter. The material is not exciting but Bruce did a great job in making it as interesting as possible."

On API 579, April 29, 2011
"This opened up a lot of doors for me with regards to my career path. Thanks John!"

On Intro to ASME Pressure Equipment Codes, August 30, 2011

See More Testimonials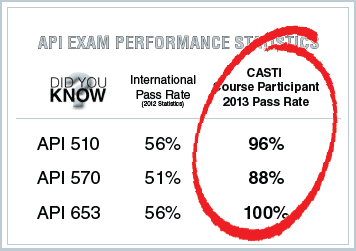 A World Leader In Codes and Standards Training
Codes and Standards Training Institute (CASTI) was founded in 1982 when John E. Bringas, P.Eng. taught our first course in welding metallurgy. Since then, CASTI has presented over 1,500 courses internationally, specializing in the area of engineering codes and standards (API, ASME, ASTM, CSA, NACE, ISO, and others). The CASTI instructor staff includes members of many codes and standards committees as well as globally-recognized professional engineers with international accreditations.
CASTI technical courses are developed for inspectors, engineers, technologists, designers, supervisors, maintenance, and quality assurance personnel who work for owners-users such as petrochemical plants, refineries, gas plants, power plants, oil/gas pipelines, pulp and paper mills, municipalities, or those who work for engineering procurement companies, inspection companies, fabricators, and regulators in governing jurisdictions.
Our Instructional Philosophy
To ensure the highest quality education, all CASTI courses are developed and taught by highly knowledgeable and experienced instructors, who are or have been Code committee members. As an IACET Training Provider, CASTI training ensures course development, delivery, and evaluation is in accordance with ANSI/IACET Standard 1 which is recognize world-wide. We not only teach "what" is in the Code or Standard, but more importantly, "why" it is there.
CASTI Guidebook to

CASTI Handbook of

CASTI Metals

CASTI Online Databases

Extras
CASTI Publishing Inc.
CASTI Publishing Inc. was launched in 1992 with the release of the CASTI Metals Black Book - North American Ferrous Data, a metals data book which has sold over 20,000 copies in more than 80 countries worldwide. We now publish the CASTI Metals Data Book Series (2 volumes), the CASTI Handbook Book Series (4 volumes), and the CASTI Guidebook Series to the ASME Codes (4 volumes). These publications are available as traditional printed books and as fully searchable e-books.