Articles
"Once a CASTI customer, always a CASTI customer." - John E. Bringas
Here you will find short articles about topics covered in CASTI courses to help you with your career.
CASTI Presentation on Temper Bead Welding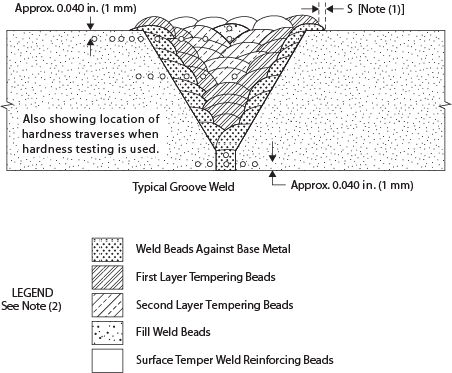 ASME Section IX Figure QW-462.12 Nomenclature for Temper Bead Welding
On September 28, 2016, Kimberley Meszaros of CASTI gave a presentation to the CWA Calgary chapter on Connecting-the-Codes from Temper Bead Welding to the ASME Codes, CSA Codes and the NBIC. There was a full audience and, due to popular demand, we have now made the presentation slides available for download here.
Temper Bead Welding (TBW) was adopted into the 2004 Edition of the ASME Boiler and Pressure Vessel Section IX code; the adoption of TBW has permitted welders to strategically exploit the effects of welding. Of particular note, is the ability to utilize TBW to create a weldment with improved strength and low temperature impact properties without the application of post weld heat treatment (PWHT). However, to reliably obtain these benefits requires development of a robust welding procedure, performance qualification and parameter controls during production welding.
Section IX- QW-290 describes the rules for TBW procedure qualification, upgrading of existing procedures to include TBW, restrictions on the use of TBW, qualification of welders and variables for TBW, among other topics. The rules for TBW in Section IX and a selection of other codes will be discussed.
Kimberley Meszaros, (P.Eng, MSc) is a professional engineer who practices materials engineering. She is a certified welding inspector. Kimberley is a BSc (Materials Engineering) and MSc (Materials Engineering- Welded Composite Coatings for Oil Sands) graduate of the University of Alberta. Kimberley has worked in the Alberta energy sector developing and troubleshooting welding procedures, consulting on various projects, and has worked in research and development for both private and government organizations.
How Technical Professionals can Improve Job Prospects as Oil Recovers
News of OPEC and other oil-producing countries cutting oil output to raise oil prices has provided optimism to the oil and gas industry, but employers are still cautious when it comes to increasing operations and hiring technical professionals. Companies are positioning themselves to be flexible enough to ramp up operations quickly while also being able to cut costs if the oil downturn continues, and for that, they need a certain type of person.
The oil and gas industry is regulated so that many positions require certified individuals. Companies need flexible employees who can fulfill multiple roles. Many engineers, for example, perform both engineering and inspection duties. Similarly, many welders are certified to undertake welding inspection. Someone with multiple certifications is a very valuable asset to a company.
Obtaining certifications is an obvious choice, but the difficulty is in deciding which ones best supplement existing credentials. Codes and Standards Training Institute (CASTI) provides a detailed career path diagram that will assist you by showing the certifications that can help you keep or obtain a job. Engineers, welders, and inspectors all benefit from certifications.
When employers look for flexible employees, engineers that can perform inspection have a clear advantage. CASTI provides training for many different types of inspection certification examinations including welding inspector certification and American Petroleum Institute (API) inspector certification. It is valuable for engineers to obtain at least one American Petroleum Institute (API) inspector certification, giving employers more flexibility to send them out to the field. API 510, 570, and 653 inspector certifications allow individuals to inspect pressure vessels, piping, and storage tanks respectively; all of which are abundant in the oil and gas industry.
A welder that is certified to inspect welds, pressure vessels, piping, and storage tanks is a valuable asset in a broad range of industrial applications. Welders should start with a welding inspector certification. In qualification as a welding inspector, code endorsement examinations are required which permit the inspection of specific types of equipment. The more code endorsements that a welding inspector has, the more versatile they are.
Certified inspectors should continue to broaden the types of equipment that they can inspect. Oil and gas companies have a lot of equipment to inspect, and they prefer to hire one inspector instead of three or four. The ability to inspect multiple types of equipment is especially useful for performing inspection work for larger companies that may have pressure vessels, piping, and storage tanks on site.
Improving your job prospects in the oil and gas industry requires effort, but if you are able to obtain several certifications, you will be of great value to employers. Sign up for the CASTI e-newsletter to receive information on training courses for specific certifications and notifications of when new online-only courses will be available.


Benefits of Training
Invest in Your Career
Your education is like a business investment. It takes time and money to complete training courses and obtain certification, but you will see an excellent return on an investment that will continue to give back throughout your entire career.
Enhance Your Skills
It is important to ensure that your knowledge and skills are up-to-date with the trends affecting your industry so employers will continue to view you as a valuable asset to the company. By continuing your education, you can learn new skills and specializations that will allow you to become a more versatile employee and increase your long-term value to employers.
Demonstrate Value to Employers
An excellent way to demonstrate to employers that you are committed to your career is by attending training courses. By investing time and money in continuing your education, you will send a powerful message to employers that you are serious about improving your education and applying new skills to your job. Employers are more likely to hire and retain professionals who show the desire and commitment for lifelong learning, and many even provide tuition reimbursement as added encouragement.
Leverage Past Experience
Earning additional credentials will attest to your capability and is also a good source of knowledge and networking. It will significantly improve your marketability and the more certifications obtained the better likelihood of achieving the supervisor or managerial levels.
Discover Your Dream Job
From welder to inspector, the best way to learn more about a potential career in supervisory and managerial positions is through training and certification. By continuing your education, you can discover a dream job that is less physically demanding and increases your earning potential.
Increase Your Earning Potential
If you are looking to achieve a higher salary over the life of your career: get the training you need to get ahead. Get where you want to be by knowing where you need to be. Get on the CASTI Career Path today.


Temperature Range Terminology in ASTM and ASME
Question:
In ASTM and ASME Section II, there are terms used to describe service temperature, such as:
cryogenic (ASME SA-353),
low temperature (ASME SA-333),
moderate temperature (ASME SA-516), and
elevated temperature (ASME SA-387).
The temperature ranges for these terms are not included in ASTM A941; where would I be able to find them?
Answer:
The answer to this question is found in ASTM A994 as shown below.
ASTM A994 Standard Guide for Editorial Procedures and Form of Product Specifications for Steel, Stainless Steel, and Related Alloys
6.1.5 The use of temperature categories in the titles of specifications should be avoided. When a subcommittee determines that temperature categories must be used in the title of a specific standard, numerical temperature ranges should not be used; the establishment of limits on the use of materials is not the responsibility of Committee A01. When a subcommittee determines that a temperature category must be used in a title, one of the following should be selected: cryogenic, low, ambient, moderate, elevated, or high.
There are no quantitative values established by ASTM for any of the temperature descriptions in the standard title since only the user of the ASTM standard knows the temperature values for their application.
For example, although ASTM A106 includes the term "high temperature" in its title, this standard is used in many industries and is included in many construction codes where "high temperature" could have many different temperatures or ranges.
In the case of ASME B31.3, ASTM A106 Grade B has a listed allowable stress from the design minimum temperature up to 593°C. The Category D design minimum temperature without impact testing for ASTM A106 can be as low as -29°C. Therefore, the ASME B31.3 code includes a -29°C to 593°C temperature range for ASTM A106 Grade B that ASTM classifies as "high temperature".
If you did this same exercise for other codes, e.g., water treatment, structural, plumbing, natural gas distribution, etc., you will find many different allowable temperature ranges for ASTM A106. Consequently, it's the user's responsibility to understand their application and its material selection requirements.


Disclaimer
The information on this website is provided as a public service for information purposes only; it is not engineering or consulting advice and should not be relied upon in such a manner. While the information on this website is thought to be accurate, it is provided on an "as is" basis and without warranty of any kind, either express or implied. Codes and Standards Training Institute (CASTI), its agents, employees or contractors will not be liable to you for any loss or damages of any nature arising out of your use of information provided on this website, or information provided at any other website that can be accessed from this website.